A little about you, a little about me
About You
You are a badass super(s)hero who loves telling stories. You've written out the concept or a rough draft but there are parts of the story that don't connect or flow well and you're not sure how to make it all one cohesive unit. Perhaps you've gone through a few drafts, possibly floated it by fellow badasses but the feedback you've gotten isn't assisting you where you need help. Or maybe you're done, except for copyediting, and you need someone with distance that won't change the voice of the story (or any of the characters) in the name of grammar.
If this sounds like you (or someone you know) and you already know what you want, email me. If you're not sure exactly what kind of help you're looking for check out this page with all the descriptions of the services I offer.
About Me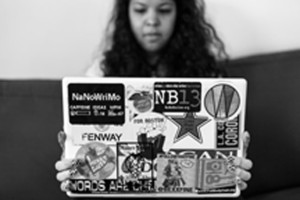 I'm a graduate of Emerson College's Writing, Literature, and Publishing program and a member of the Editorial Freelancers Association. My superpowers are storytelling and editing. If the written word is your arch-nemesis or the love interest you can't stop being awkward around, I'm here to help. I love finding one word to replace a sentence or figuring out the most powerful way to convey your story.
After working as a marketing assistant and assistant editor in comic book publishing, I took a stab at travel writing but found I liked taking notes on my family and friends' stories and essays to help them improve their writing more than I liked taking notes on what I was doing where.
I've worked with self-publishing authors writing business books and grad school candidates writing fantasy. I offer a bunch of services to assist you and can't wait to work with you. Email me now to get the ball rolling.