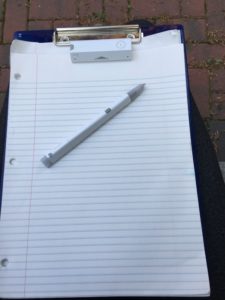 Most of my writing is housed on my phone and desktop computer (or an app that I have on both). I've been trying to cut down on my screen time at bed time; however, writing at bed time allows me to get thoughts out so they don't keep me up. I was excited to try a tool that could potentially let me take notes and digitize them plus turn my handwriting into text. Things did not work out like they would in my dream world, but realistically speaking for what the technology can do I'm still happy with the result.
Cons
This tool is prohibitively expensive.
It retails for $189.95 on the manufacturer's site and $154.99 on Amazon (the Amazon product has more accessories than what I purchased.) I picked mine up, still sealed in the package, for $35 at Goodwill. Note: another tool similar to this pen is the Phree, which I've written about before. The Phree is still in pre-order for $198. The Phree doesn't have a dedicated app for capturing the data stream from the pen and purportedly doesn't need as many accessories to work, so I'm still interested in trying it out.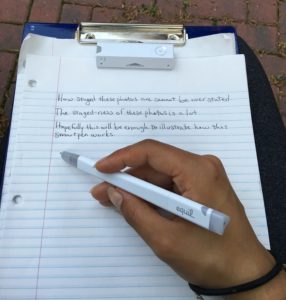 You need impeccable handwriting with a larger than normal pen.
My hand is 6.5 inches from thumb tip to little fingertip. This pen is slightly unwieldy for me, although I have gotten better with practice. If the handwriting isn't near perfect, the app won't be able to translate the handwriting
to digital text.
There are lots of bits and bobs to learn to fully utilize this tool and the software.
Connecting the pen and transponder to your device and computer looks easy, but it took a few tries before all of my devices were all on the same page. Plus I needed to quit and restart Equil Note, the tool's writing app, before I could get it recognize the pen and stop prompting me to buy the English language package. A language package to be able to convert handwriting into digital text is only $5.99, but if a product says that a feature is included with the product, I don't want to pay to get the promised feature. Fortunately, after the third or fourth try connecting the smartpen to my phone, everything worked like it was supposed to.
Changing pages is a bit of hassle.
I've taken to having buffer pages between my top page and additional writing paper because the impressions from previous pages seemed to be creating weird lines.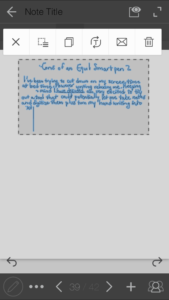 The device is both a regular pen and an electronic pen.
So many questions come to mind: how much power is left in the pen? Do I have ink? What apps does it connect to? To see how much power is left in the pen, connect the smartpen to your device and check it through the app. Although if it doesn't light up, you'll know you're out of juice. In terms of ink, the pen takes regular pen ink cartridges, that can be picked up anywhere you pick up pen cartridges. I haven't run out of ink and the device comes with a second ink cartridge. The only apps the Equil Smartpen 2 seems to connect to are the two apps put out by Equil: Equil Sketch and Equil Note. Both are free apps with in-app purchases. I've only used Equil Note, and while the app isn't difficult to use (it's similar to Evernote), the user interface is not intuitive when you're learning how to utilize it.
Letters, words, and paragraphs don't import or don't convert well (or at all) from the handwriting.
In this blog post, I needed to retype a few paragraphs that were dropped between writing and transmitting or converting the writing. It's pretty easy to type up a missed word or paragraph and, because the pen uses ink, I can see what is missing or what was mis-converted and fix it.
Pros
Pen to digital page in a few clicks.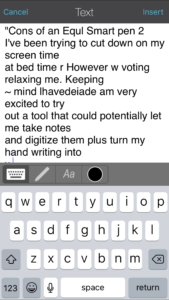 I wrote a rough draft of a blog post with pen and paper and, with a few clicks, I had digital text. Was it perfect? Nope. Could I fix it from my phone? Yep. Anything I can fix on my phone instead of my desktop computer is a win because it allows me to utilize time I spend on the bus (and I spend so much time on the bus).
Cut out late night screen time.
I can cut out screens while I'm winding down at night. I have a lot of trouble getting myself to go to bed, so activities I can do from my bed that won't cause me to get all wound up are good for me.
More portable than a desktop and easier to use in less spacious locales than a digital device and Bluetooth keyboard.
This is a good option for the bus. It's not great for lightning inspiration moments, but for scheduled "put your ass in a seat and write" times, it works.
Copy and paste is your friend.
Text dumps via copy and paste to the app of your choice are relatively painless. There are also Evernote and Dropbox hook-ups, but I haven't found them useful because they import the notes as pictures.
Free your mind (from the constraints of digital devices).
I am not Hamilton and I'm not writing like I need it to survive (warning: that links leads to one of my favorite Hamilton songs). Producing something by sitting down and typing can often be a stumbling block for me because I don't focus on the specific writing I mean to, I get sidetracked with something else entirely, or I don't feel like typing. Using the Equil Smartpen 2 tricks me into thinking more of the work is done than really is because at least the hard part of creating something original is over, now I just have to transmit and edit the thing. I am not above a mind game to make myself write more.