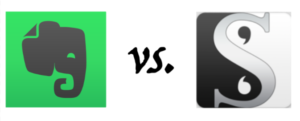 I highly recommend Scrivener. As I mentioned in October I spend approximately three hours every weekday in transit. Of that time, I'm not walking for about two hours and fifteen minutes. That's prime writing or reading time because I'm lucky enough to not have motion sickness.
Scrivener is available on Mac for $45 and Windows for $40 and on iOS for $20. The desktop and mobile apps can be synced to update each other through Dropbox, so writing that happens on the bus will automatically transfer to my desktop and vice versa.
Why I recommend Scrivener for this kind of writing over Evernote:
Scrivener is built with submitting manuscripts and short stories in mind.
The undo key on your phone. I've done this to myself enough times on Evernote that I never want to experience it again: select a passage with the intent to change formatting but instead hit a key on the keyboard. Now the selected text is a single character and there's no way to get my previous text back. (If this is not true, and you know how to get that text back, hit a sister up: literary(dot)sidekick(at)gmail(dot)com.)
Pre-built projects that have sections for character development, manuscript, research, place, and more for you to organize and use to your heart's content. I don't typically fill everything out, but I like knowing that it's there.
If you have an iOS device (sorry Android), you can get it for your phone and/or tablet and for your laptop or desktop computer. This will allow you to sync between all of your iOS devices. (I know that Evernote has the ability to do that naturally, but unless you pay for a subscription it is limited to two devices and the website.)
Strike through. This was especially important during NaNoWriMo when I was writing things I knew needed to be taken out but I also needed the words to make my daily count.
However, if you're anything like me a few years ago and scraping together enough money to cover all your bills is a struggle, go with the free version of Evernote for now. You can build binders with the various notebooks and sync from phone to desktop, with the added benefit of having a backup of your work that lives on the interwebs.