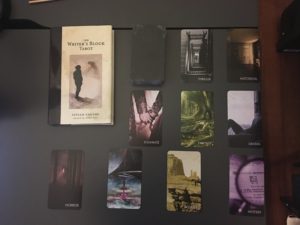 Last year I had a small Kickstarter habit. I would frequently go on the Kickstarter app on my phone while I took the bus home. I loved scrolling through all the interesting and creative projects. I'd kid myself into thinking that this was inspiration for my writing. I'd pledge to ideas that I simply didn't want to miss out on. Lightspeed's POC Destroy Science Fiction, Apex Publishing's Upside Down, and Kwanza Osajyefo's BLACK were a few projects I had to put money towards and read the finished product. I'm still working my way through the Lightspeed book. (That anthology is huge. I've made it to the essay section.)
One project that I backed last year was the Writer's Block Tarot and in March I got a package in the mail containing the deck and a book about how to use the cards. My non-practicing neo-Pagan friend read my cards for me months ago. Watching her read the dozen card spread with ease made me wonder if backing this project had been a good idea. Would I understand how to do it? I'm a storyteller and Tarot tells a story, but would I be doing it correctly?
I read the Writer's Block Tarot book and then tried a three card spread. It's not as intimidating or black and white as I thought. Plus this is a tool to help with the story I'm writing, whatever I come up with isn't wrong and it's help to form a story, not dictate what the story needs to be. The Tarot cards and spreads often illuminate relationships and elements of the story in a new light, at least that's what is happening for me now.
If you're stuck in a rut or are like me and frequently get stuck and need to try something to get yourself enough out of your own way so you can write your damn story, I recommend trying the Writer's Block Tarot. Thus far my only gripe is that most of the people on the cards are white. Which is a thing I don't understand. How do you go through your entire day without seeing anyone with a different skin color? But that's a quibble for another post.